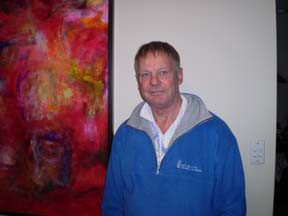 John Towers is an Auckland Artist, passionate about what he does.
John, having come from a very artistic family, spent all his working life as a builder and with a keen interest in design and colour, decided that the next stage in his life would be devoted to art.
John started with painting landscapes, but then discovered "Abstract", and being blessed with a vivid imagination he found it to be more fun and more risk involved, as it required him to step outside his comfort zone.
In the short time he has been painting, John's works have been hung in numerous exhibitions including 3 solos and now has many of his paintings hanging in dozens of private homes and offices both in New Zealand, Australia and the UK.
He has studied extensively with such names as Betty Oakes, James Lawrence, Karl Amunsden, Gail Boyle and he now holds regular workshops teaching with wet on wet and textured technique.
Although he has won various awards, he thinks his Royal Easter Show 1st prize in the abstract category in 2007 against a record number of entries ranks alongside having two of his works in the Mount Albert Grammar Collection.
Paintings for Sale
A collection of works can be seen, upon request, at his private gallery in Remuera. You can also view his website